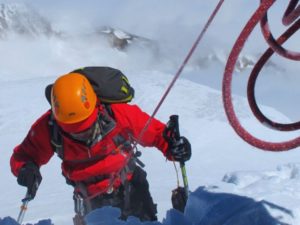 BluEmu is primarily a team. A group of people who devoted their lives to the mountains: mountaineering, trekking and other forms of mountain activities, as well as traveling in less-known corners of the world. People who constantly improve their skills, also during their own expeditions on the highest and most difficult peaks of the world. We have been operating as a guiding company on the market since 2011. However, the idea of sharing our mountain passion with others had emerged much earlier. Since more than 10 years we had been organizing and participating in our own expeditions, which have become a base of knowledge and experience for our guiding services.
We work with individual clients, as well as with companies. We focus on mountain trips, from easy treks to climbing seventhousanders. Our offer is designed for people who would like to travel in small group, under the supervision of experienced and competent leaders. We pay attention to developing our trip members' fitness and technical skills by proposing them participation in the increasingly serious expeditions.
We also offer the range of courses, trainings and workshops, which we widen from year to year. They provide knowledge and skills in various fields, which enable our courses and trips members' to take more and more difficult challenges under our supervision and later also independently.
BluEmu Team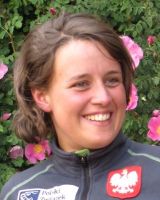 Ola Dzik
She has graduated from the psychology and sociology at the University of Silesia. Being a qualified UIMLA international mountain guide, Beskids guide and a tourist guide, she specializes in mountaineering expeditions from Alps through Caucasus, Altai, Pamir, Tien-Shan, Hindukush to Himalayas and Karakorum. Ola enjoys all kinds of active recreation: trekking, cycling, ski touring, snowshoe hiking and many others. Apart from her activity in the mountains, she organizes presentations, workshops and trainings associated with travelling and mountains. Her achievements include reaching Gasherbrum II (8035 m a.s.l.). Moreover, as the first women from Poland, Ola managed to accomplish one of the most dangerous routes in the World – Jengish Chokusu (7439 m a.s.l.) and reached all five seven-thousanders of the former SSSR (Jengish Chokusu, Chan Tengri, Communism Peak, Korzhenevskaya Peak and Lenin Peak), which brought her a prestigious Snow Leopard title. She has been climbing in remote regions of Afghan Hindukush and summited seventhousander Kohe Tez. As the first women, she accomplished the longest variant (Extreme) of the Elbrus Race. For many years Ola has taken part in ski mountaineering races that brought her the Championship of Poland and the Cup of Poland. She also challenges herself in adventure racing, cycling marathons and running competitions. Her achievements have been appreciated by National Geographic, who awarded her with "Travelery Prize". Moreover, she obtained "Jedynka 2010" prize of mountaineering society. In addition, she is a winner of H. Jordan Award granted by the Rector of Jagiellonian University for achievements in sports and a holder of distinction of All-Polish Meetings of Travelers, Sailors and Mountaineers "Kolosy" in the category of alpinism as well as Andrzej Zawada travellers award.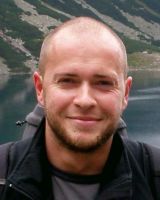 Michał Loj
With his education and experience, he has no other choice than to deal with tourism. For 16 years, he has been working in the field organizing enterprise excursions and meetings with a flavor of adventure as well as tramping expeditions. Vertically, he has reached Jabal Taubkal, Kilimanjaro Mont Blanc and Elbrus a number of times. Horizontally, he managed to travel to all the continents, not counting the poles, for which he has as great appetite as for good steaks and for further mountain challenges. Michał spends most of his free time in the Tatra Mountains, but also enjoys water and especially likes everything that can be found under its surface. In BluEmu, he is a specialist in African Continent.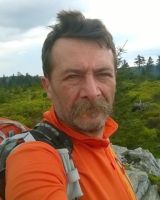 Darek Hajduk
Economist, has graduated from Budapest Economic High School of Economic Sciences in Budapest. He is a manager and a salesman, since many years working in pharmaceutical branch. Since many years he is passionate with forests, orienteering and widely understood outdoor activities. Since 1995 he is thre leader of orienteering events in Polish Tourism Organization (PTTK).
Co-founder and member of the Association For Supporting The Development of Orienteering Events (Stowarzyszenie Wspierania Rozwoju Imprez na Orientację). Since many years he has participated in Polish orienteering competition. The winner of Silesia Cup in Orienteering in 2003. Many times he participated in Dino Trophy, the extreme and long-distance orienteering event.
The lover of bushcraft, survival and primitive ways of living. Since many years he is fascinated with mountains, especially Bieszczady. Originator and co-organizer of Polish survival enthusiasts' meetings "Konwent Survival", taking place annually since 2009.
In BluEmu he is a specialist in survival trainings.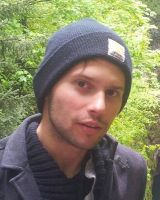 Kuba Polasik
Traveler, international tour leader and mountain guide. He has been cooperating with BluEmu since 2013. He has fallen in love with mountains at the age of 16 after summitting his first mountain peak via the climbing route (Mnich in Polish Tatras). Since that time he has been spending most of his free time on improving his skills in different forms of climbing: rock, ice and high-altitude. He has been climbing in massifs like Alps, Caucasus and Himalaya. He travels a lot, alsdo as a guide, in more or less remote areas of the world (ew. Middle East, Morocco, Nepal, India, Japan and Middle America). He has guided expeditions on the most famous peaks of Europe and Caucasus (Mont Blanc, Matterhorn, GrossGlockner, Elbrus, Kazbek) and also has led several long mountain treks (ex. Altai mountains in Southern Siberia, trekking circuits around the most famous peaks of Nepal). Privatly he is an archeologist, triathlonist and photographer.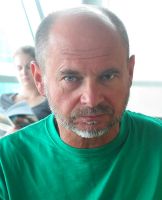 Robert Róg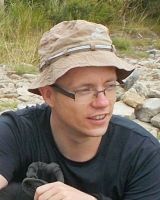 Jacek Straszak
Psychologist, has graduated Applied Psychology faculty in Jagiellonian University in Kraków. He is a specialist in work psychology and works as a personal advisor.
Since 20 years he has been passionate about the art of survival, trekking, mountains and also a little bit about sailing. Do-it-yourself enthusiast, lover of history and primitive hunting tools.
Originator and co-organizer of Polish survival enthusiasts' meetings "Konwent Survival", taking place annually since 2009.
In BluEmu he is a specialist in survival trainings.