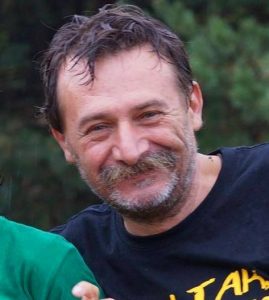 Economist, has graduated from Budapest Economic High School of Economic Sciences in Budapest. He is a manager and a salesman, since many years working in pharmaceutical branch. Since many years he is passionate with forests, orienteering and widely understood outdoor activities. Since 1995 he is thre leader of orienteering events in Polish Tourism Organization (PTTK).
Co-founder and member of the Association For Supporting The Development of Orienteering Events (Stowarzyszenie Wspierania Rozwoju Imprez na Orientację). Since many years he has participated in Polish orienteering competition. The winner of Silesia Cup in Orienteering in 2003. Many times he participated in Dino Trophy, the extreme and long-distance orienteering event.
The lover of bushcraft, survival and primitive ways of living. Since many years he is fascinated with mountains, especially Bieszczady. Originator and co-organizer of Polish survival enthusiasts' meetings "Konwent Survival", taking place annually since 2009.
In BluEmu he is a specialist in survival trainings.