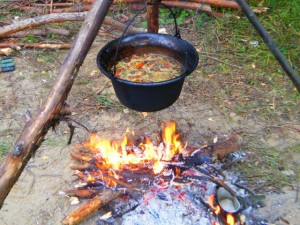 Do you like outdoor activities? Would you like to learn something useful and to have some rest and relax in the wilderness at the same time? No matter if your hobby is mountaineering, kayaking or cycling trips, the survival training for tourists is something for you. The two-day courses will give you basic skills and knowledge that will help you to stay safe in the wilderness, enjoying it and being ready to deal with various emergency situations on your own .
The training takes place in the wild areas of the Beskidy Mountains and Gorce. Our base is, depending on the date, either the former shepherd's hut owned by Katowice Academic Mountain Guide Organization (SKPB) on the slopes of Pilsko mountain, located about one hour walk from Korbielów town and 20 miutes from PTTK hut on Miziowa Meadow, or another shepherd's hut adapted for shelter, on Gorc Kamienicki mountain, about 1.5 hours walk from Rzeki village near Mszana town. We reach the hut and go back all together, with the guide. During the training we work actively outdoors, learning and practicing variuos skills. Only a small part of the theoretical classes take place inside the hut. In the hut we also sleep, cook and dry up by the stove or fire. For volunteers, of course, the accommodation in the forest is possible 🙂 Do not worry, you do not have to be extreme-adventure lover, our training is for everyone! Each participant receives FREE a set of useful gadgets:
knife
flint
map of Żywiecki Beskid mountain range
The training will be led by Darek Hajduk i Jacek Straszak (Projekt Bushcraft) and Ola Dzik (BluEmu)
Dates of trainings in 2017 soon.
The cost of training: 350PLN
The price includes:

the cost of

training including the equipment used;

accommodation in a hut (or. for volunteers in the forest)

insurance




gifts for participants (a knife, a flint, a map).



The topics of the training:
SAFETY:
equipment of the safe tourist
moving and navigation in the outdoors
dealing with various difficult and dangerous situations (getting lost, unplanned bivouac, lack of food, drinking water, fire)
safe

use of tools

(knife, ax, saw)
LIVING:
bivouacing

under the open sky

firing up

and

use of fire

outdoors

improvised shelters

water treatment techniques

preparing the "

wild

" meal

Additional attractions:

archery training

primitive hunting tools show (Atlatl, rope sling, bolas)